Egonzinc's HOME PAGE
FEATURED ITEMS
Click Photo2 Page on Menu to the Left
One Kilometer from the Volga
- Stalingrad 1942
2.Panzergrenadier-Bataillon I
Panzergrenadier-Regiment 21
24. Panzer Division
XXXXVIII Corp, 4th Panzer Army
Army Group B
Barrikady Industrial Complex
Stalingrad, Sepember 29, 1942

Photo 3 Page
Hetzer Jagdpanzer 38(t) #235
2nd Platoon, Panzerjager Abt.741
5.Panzer Army (von Manteuffel)
Ardennes, December
-------------------------------------------------------
Below, image of "One Kilometer from the Volga Dio"
Details on Photo2 Page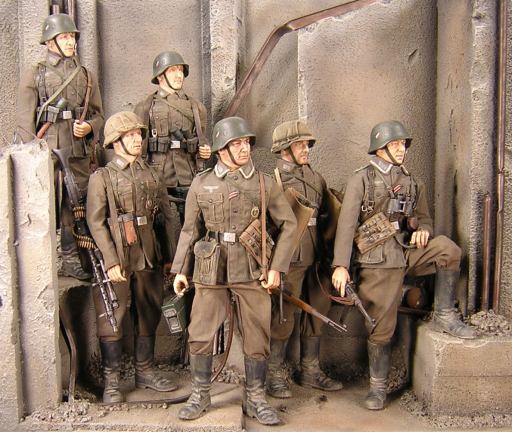 TARAWA SERIES
Click on Photo4 Page
in Menu to the Left
Major Jim Crowe
2/8th Marines
Red Beach 3, Betio Island
Tarawa Atoll, November 1943
Click on Photo5 Page in Menu to the Left
General Adalbert Schulz
Adalbert Schulz (1903-1944). Generalmajor at the age of 41, this young and brilliant officer of the armored troops, drawn from the ranks of the police, commanded 7 Pz. Div. in 1944. He was killed on the Russian front in January 1944.
He was one 27 German soldiers to receive the Knights Cross with Oakleaves, Swords and Diamonds.
The first of a series of bashes showing this brave, brilliant but little known panzer commander from 1940 to 1944
"The End of the Road"
Spotsylvania Court House
Check the 'Catalogue Page' link on the left for many more 'bash' links.