AMERICAN CIVIL WAR FEATURE PAGE
"The End of the Road"
Stonewall Brigade
Battle of Spotsylvania Court House
May 8–21, 1864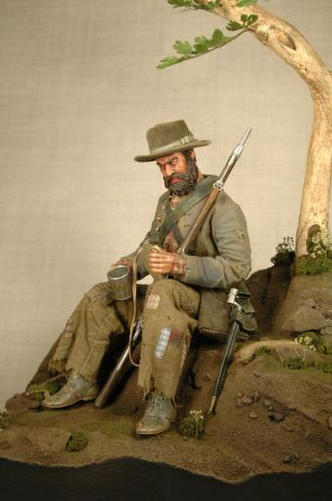 Private, Stonewall Brigade, Spotsylvania Court House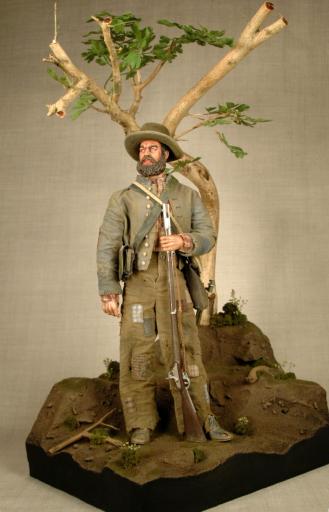 In the Overland Campaign, at the Battle of the Wilderness, the brigade fought along the Orange Courthouse Turnpike. At the Battle of Spotsylvania Courthouse, the brigade was on the left flank of the "Mule Shoe" salient, in the part of the line known as the "Bloody Angle", where Winfield S. Hancock's II Corps launched a massive assault. All but 200 men of the brigade were killed, wounded, or were among the 6,000 captured Confederates following the bloody hand-to-hand fighting. The prisoners included Johnson, the division commander, and Walker, who was seriously wounded.
Spotsylvania Court House was the official end of the road for the Stonewall Brigade. The brigade was disbanded and its surviving members were consolidated into one (small) regiment.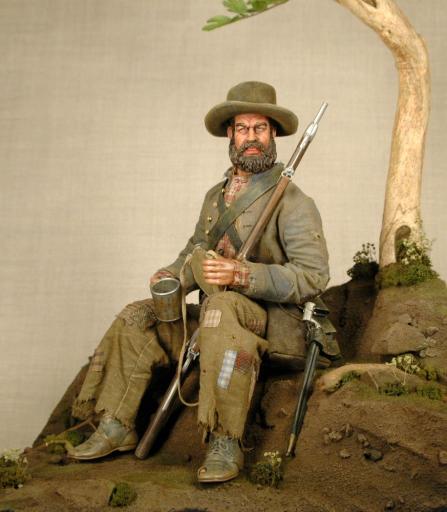 The remaining regiment fought as part of Brig. Gen. William Terry's brigade (which itself was the remnant of the Stonewall Division) in the Valley Campaigns of 1864 under Jubal A. Early. It figured prominently in the Battle of Monocacy on July 9, 1864, routing the Union defenders and opening the road to Washington. Early's army was eventually defeated in the Valley by Philip Sheridan and they rejoined Robert E. Lee and the Army of Northern Virginia for the Siege of Petersburg and the Appomattox Campaign. Of the 6,000 men who served in the Stonewall brigade during the war, by the time of the surrender at Appomattox Court House, only 210 soldiers were left, none above the rank of captain.
"The End of the Road"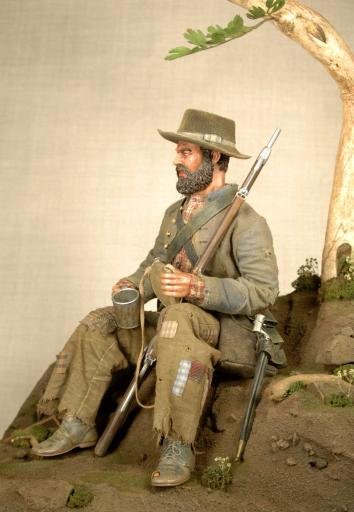 Bash Information
The base is made out of three pieces of 2 inch thick styrofoam.
I applied sand and pebbles with carpenter's glue. Also used various coats of the same glue to seal the sides of the base. Painted everything with the airgun (Tamiya acrylics, thinned with denatured alcohol), The results particularly on the lateral black areas was very good as the air gun produces a SUPER flat finish, which is what I was looking for.
Added, static grass, foilage clusters and lychen , all from Woodland Scenics. Finished with some small dried flowers from a craft shop.
The tree is a branch of a hedge they call "Café de la India"(Cofee from India) here in PR. I removed all the leaves and added some plastic leaves, which I painted to remove the shiny plastic shine.
The soldiers uniform is all BGT, weathered HEAVILY with the Dremel and a lot of dry-brushing. Made a hole on top of the left shoe, worked from underneath with the Dremel to make the edge more in scale.
The body is a slightly reduced DML body and the HS ir Carnot with repainted hair and the usual dirty washes to the face area.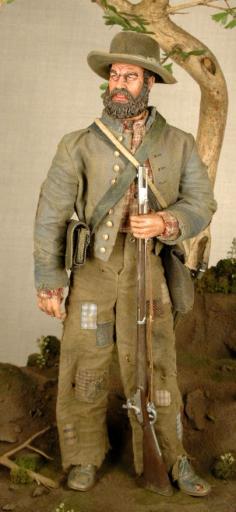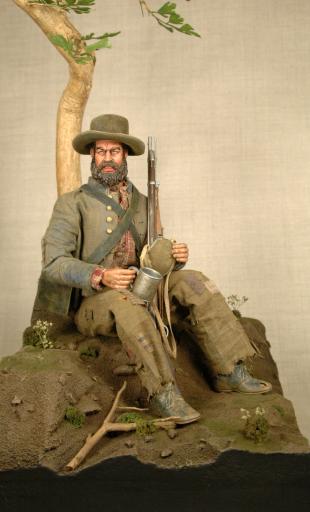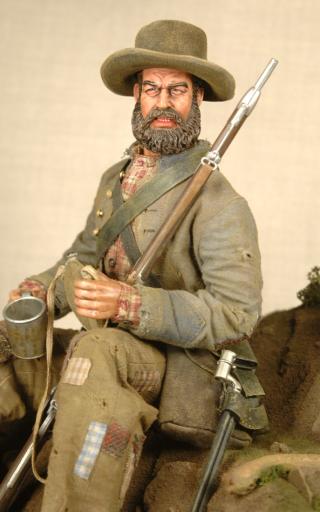 More images of ACW miniatures in these Winkflash albums:
ACW Types
ACW Types II
ACW Types III
ACW Types IV- Confederate Officers
ACW Types V- Union Officers
ACW Types VI- Union
ACW Types VII- Confederate Officers II
ACW Types VIII- Confederates